Climate Awakening Forum
October 14 @ 9:30 am

-

4:00 pm
Join us for a full day of conversation, craft, art, and problem-solving in conjunction with Contemporary Craft's exhibit, Climate Awakening.
The Climate Awakening Forum is organized by Contemporary Craft, in conjunction with its exhibit Climate Awakening: Crafting a Sustainable Future. This forum brings together speakers from different sectors, including nonprofit organizations, business leaders, innovation catalyzers and visual artists who promote environmental awareness through collaboration, education, advocacy and innovation.
REGISTRATION FEE: $20 (including coffee, lunch box and 1 Climate Awakening catalog)
PROGRAM AGENDA
09:30 – 09:50 Check in + Coffee
09:50 – 10:00 Introduction
10:00 – 10:50 Session 1: Carbon Dynamics of Honey Craft
10:50 – 11:40 Session 2: Climate Change, Energy, and Policy in Pennsylvania
11:40 – 12:30 Session 3: Visualizing Environmental Justice (and doing something about it)
12:30 – 13:00 Lunch + Networking
13:00 – 13:50 Session 4: Clothing and Ecosystems: The Healing Potential of a Local Textile System
13:50 – 14:40 Session 5: A site-responsive art practice
14:40 – 15:00 Group Reflection + Survey
15:00 – 15:15 Forum Adjourned + Networking
15:15 – 16:00 (Optional) Climate Awakening Guided Tour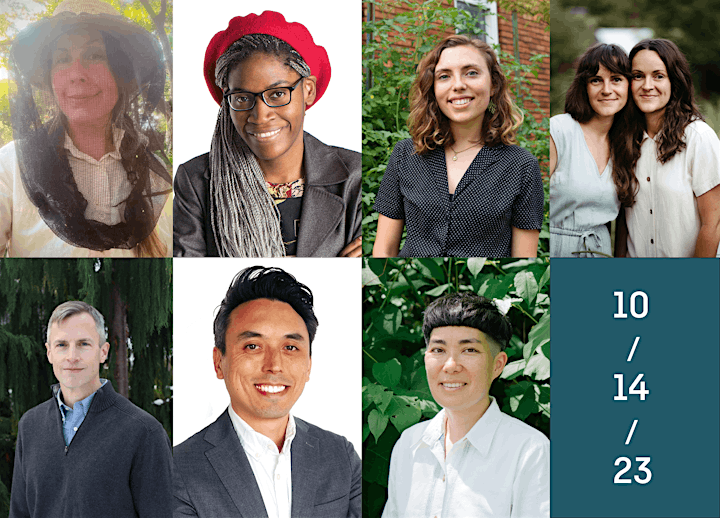 SESSION 1: Carbon Dynamics of Honey Craft
A miracle product of floral pollination, honey can be an artisan food craft, like cheese or wine, although it is most often treated as a bulk pantry staple lacking clear connections to maker or method of production. This talk will trace the journeys involved in two radically different honey-making methods; small batch localized honey versus bulk "industrial" honey produced as secondary income to migratory commercial crop pollination. The key question we'll investigate through this talk is how beekeeper choice in the honey-making process can have a direct impact on both quality of craft and the carbon footprint.
Presenter: Christina Joy Neumann, RA LEED AP, Owner + beekeeper, Apoidea Apiary llc
Christina Joy Neumann has been enamored with the diverse world of bees (superfamily apoidea) since the early 2000s. An architect by trade, she is biomimetically inspired by the instinctual nest-building and food-making skills of Apis mellifera, the western honey bee. After working as an organic beekeeper on Hawaii's Big Island, Christina established Apoidea Apiary LLC, a Good Food Award winning urban honey company in Pittsburgh, Pennsylvania. As a Cornell University Master Beekeeper, she manages 70-100 Certified Naturally Grown colonies within a 6-mile radius of Downtown Pittsburgh. Christina is in advanced honey sommelier training with The Italian National Register of Experts in the Sensory Analysis of Honey. Her latest endeavor is CoNectar, a honey dessert cafe and tasting space in Millvale, PA, opening Fall 2023.
SESSION 2: Climate Change, Energy, and Policy in Pennsylvania
This session will examine efforts to advance meaningful climate change decarbonization policies in Pennsylvania; reflecting on Pennsylvania's energy profile, political climate, and other factors.
Presenter: John Walliser, Senior Vice President, Legal & Government Affairs for the Pennsylvania Environmental Council (PEC)
John Walliser is the Senior Vice President, Legal & Government Affairs for the Pennsylvania Environmental Council (PEC). PEC has been a leading voice on decarbonization in the Commonwealth for more than a decade, focusing on both state and federal opportunities and issues.
SESSION 3: Visualizing Environmental Justice (and doing something about it)
As a society, we have provided people with an unequal, built environment. Climate change is compounding those inequities, harming already vulnerable communities. With buildings accounting for 39% of greenhouse gas emissions, climate justice requires thinking about how we remake our built environment. GBBN's Design Issues Series (DIS) recently conducted a two-year sequence of research projects that culminated in a series of community-led environmental justice projects and a traveling exhibit that used Augmented Reality to visualize environmental disparities. The idea was to not only understand those disparities, but to translate that into action. Along with one of our community partners, Grounded Strategies, we'll share our successes, struggles, and think about how designers and community organizations can work together to build a better future.
Presenters:
Mel Ngami, AIA / GBBN
A talented sketcher and model-maker, Mel uses her craft to create spaces that give people room to explore their identities and the history of the land they inhabit. Whether she's working on a multifamily residence, academic library, innovation hub, or helping National Organization of Minority Architects (Pittsburgh) grow a pipeline of minority architects, Mel strives to broaden the perspectives shaping our built environment. Attuned to the psychological and physical qualities of architecture, Mel understands architecture as an act of storytelling that engages people, place, and past as it anticipates the future.
Becca Simon, Director of Programming / Grounded Strategies
Becca joined the Grounded Strategies team back in May 2021. Becca graduated from the University of Puget Sound in 2019 with a Bachelor of Arts in International Political Economy and Environmental Policy. She has managed Grounded's other Gaining Ground initiatives including the Stewardship First Campaign, Ground Truthing, and the Pittsburgh Water and Sewer Authority Ambassador Program. At Grounded, she works directly with residents to help them achieve their goals of developing and obtaining vacant land.
Chris Guignon, AIA, LEED AP BD+C / GBBN
Chris's interest in architecture connects back to summers spent visiting historic sites in the mountains of Japan, where he was struck by the interplay between the natural and built environment. As he sees it, architecture is about more than buildings. It informs our understanding of our place in the world—shaping how we live, how we interact with others, and how we connect to the environment. Chris creates sustainable designs by extending these questions into the future to ensure the built environment continues to support the needs of its inhabitants.
SESSION 4: Clothing and Ecosystems: The Healing Potential of a Local Textile System
How might local clothing be just as important a consideration as local food? What is most of our clothing made of and why might it matter? How does circularity apply to our clothing choices? How can fashion be an entry point to remembering a connection to our land, other beings, ourselves, our past and our future? Join Jess Boeke and Sarah Pottle, co-founders of Rustbelt Fibershed, in conversation as we discuss these questions and more, ultimately focusing on how our clothing and textile choices have the potential to regenerate our earth, our health, our local community!
Presenters: Jess Boeke and Sarah Pottle, Co-founders of Rust Belt Fibershed
Jess Boeke is an educator and fiber artist who has been working with natural dyes since 2008. She lives in Cleveland, Ohio, where she works with her twin sister, Sarah Pottle, to promote ethical fashion and use of Natural Dyes through their project, Drift Lab Dye Studio. Sarah Pottle is an educator, weaver, and dyer. She feels strongly that textiles have the potential to bring us together and make our community healthier, build relationships, and improve soil, water, and air quality. Jess and Sarah established the Rust Belt Fibershed in 2018.
SESSION 5: Living in a Sustainable Studio
Katy DeMent lives in a 100+ year old Building once " Riedel's Grocery "In Swissvale. Growing Fibers and foods in an organic garden, and curating these seasonal materials is a full time job. Dedicated to Reuse, DeMent's "Dry Studio" is an ephemeral archive of past decades as well as store room for inspirational materials. Her store front window displays amuse and frighten her neighbors. In the "wet studio" DeMent processes copious amounts of plant and collected fibers, using mostly equipment she built, to create sheets of handmade paper to various end. In the"Yarden" she grows food, flowers and fiber. Recently adding a 500 gallon rain collection tank with self watering soaker hose and using this rain water for pulp processing, all waste water and fibers go back into the garden completing a sustainability loop= Zero Waste. Additionally DeMent is a life time seamstress up cycling clothing, creating costumes for rockers, dancers and wrestlers, specializing in Vegetable mascots. She paints with melted wax crayons and blends recycled paper fibers with clay to create "paper clay sculptures" . During the pandemic she enthusiastically harvested materials from the studio, not purchasing art supplies for use in her classrooms or creations for several years.
Presenter: Katy DeMent, The Paper Lady & Creative's for Climate
Katy DeMent is a self-taught working studio artist, paper /printmaker maker and organic gardener who creates her art from plants, found and collected objects. DeMent uses handmade recycled paper as a gateway to the many sustainable aspects of art making, creating stronger connections with the environment. No Materials are arbitrary as each piece she creates tells a story with layers of vintage ephemera, bits of cloth held together with handmade papers crafted from fibers she collects and grows. DeMent's passion for the environment is passed on through educational programming for all ages and abilities in Western PA at Contemporary Craft, Creative Citizen Studios, Pennsylvania Council for the Arts, Grow Pittsburgh, Upstream, Phipps Garden center, and more.