Weaving 2 Series with Jamie Boyle
June 8 @ 6:00 pm

-

July 27 @ 9:00 pm
Expand your weaving skills!
8-Week Workshop
Date: Thursdays, June 8-July 27
Time: 6pm-9pm
Description: Expand your weaving skills!
In this series, students will have the opportunity to design and weave individualized projects on one of Contemporary Craft's 4-harness looms. We will dive deeper into the specifics of planning a woven project, including reading—or adapting—a weaving pattern draft, selecting yarn, measuring and estimating material needs, and finishing techniques. In short, we will explore ways to think through the question "what will the cloth do?" before we begin working at the loom or even have yarn in hand.
This class series is ideal for those who have completed Weaving 1 at CC or who have had some experience with weaving. Not to worry! It is expected that Weaving 2 students will need assistance preparing and measuring yarn and dressing the loom!
Tuition: $265 + materials fee
Materials: Materials can be purchased directly from the instructor based on your specific project
Location: Contemporary Craft (5645 Butler St., Pittsburgh, PA 15201)
COVID-19: In accordance with current CDC guidance – we are recommending all visitors wear a mask. Please note that the recommendation applies to teaching artists, resident artists, students and guests attending events taking place at CC.
Cancellations and Refunds: Workshop cancellations are decided three business days before the start date. If workshops must be cancelled due to insufficient enrollment, the entire class fee will be refunded through Eventbrite, or you may leave your workshop fee in your Contemporary Craft account for future workshops.
Refund Policy: Student refund requests must be made at least three business days before a class begins. There will be a $25 cancellation fee. No refunds will be given without three-business days notice. Processing of refunds takes approximately three weeks.
If you require accessibility accommodations, please let us know by calling 412.261.7003 and we are happy to assist you.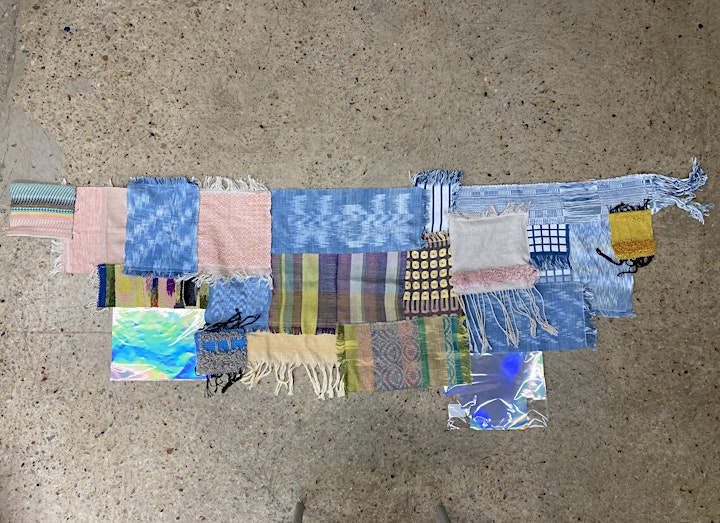 About the Artist
Jamie Boyle is an artist and weaving teacher who recently moved back to Pittsburgh after living for more than a decade in a studio apartment in Brooklyn, NY with a partner and two cats. She attended public school from grade school through graduate school. Her first weaving teacher was the artist Ann Hamilton, in whose studio Jamie worked for several years after completing her MFA in sculpture. Subsequently, Owyn Marisol Ruck, Kira Silver, Isa Rodrigues, Kelly Valetta, and Jose Picayo taught Jamie who to use a multi-harness floor loom as a tool for weaving. She has had the great honor of sharing her love of weaving with communities of learners at the Park slope Center for Successful Aging, the National Council of Jewish Women NY Lifetime Learning Center, the Museum of Arts and Design, and the Textile Arts Center, among others. Jamie has participated in artist residencies at the Textile Arts Center (Brooklyn, NY); the Museum of Arts and Design (New York, NY); and through the SU-CASA program administered by the Brooklyn Arts Council. Currently, she is an artist-in-residence in the fibers studio at Contemporary Craft.