Tin Can Collage with Robert Villamagna
October 29, 2022 @ 10:00 am

-

5:00 pm
Using your palette of metal, you will learn to how to create original, one-of-a-kind works of art that carry your personal vision.
1-Day Workshop
Date: Saturday, October 29
Time: 10am-5pm
Description: In this class you will learn how to create a color, value, and texture palette using printed/colored repurposed metal from tin cans and other metal materials. Students will learn how to deconstruct various metal containers and materials, then attaching these materials to an armature. Using your palette of metal, you will learn to how to create original, one-of-a-kind works of art that carry your personal vision. Student will leave with a set of skills that enable them to create work using repurposed metal, and a completed (or partially completed) project.
Tuition: $95 + $5 materials fee
Materials: A list of suggested materials will be provided.
Location: Contemporary Craft (5645 Butler St., Pittsburgh, PA 15201)
COVID-19: In accordance with current CDC guidance – we are recommending all visitors wear a mask. Please note that the recommendation applies to teaching artists, resident artists, students and guests attending events taking place at CC.
Cancellations and Refunds: Workshop cancellations are decided three business days before the start date. If workshops must be cancelled due to insufficient enrollment, the entire class fee will be refunded by check, to your credit card, or Contemporary Craft account for future workshops.
Refund Policy: Student refund requests must be made at least three business days before a class begins. There will be a $25 cancellation fee. No refunds will be given without three-business days notice. Processing of refunds takes approximately three weeks.
If you require accessibility accommodations, please let us know by calling 412.261.7003 and we are happy to assist you.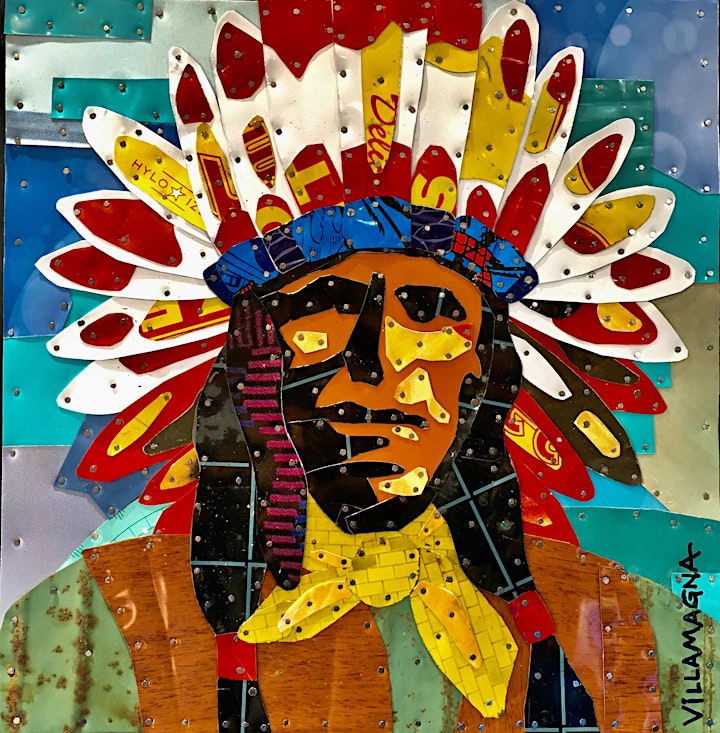 About the Artist
I am a mixed media artist working in Appalachia. I create my work in my West Virginia studio using repurposed lithographed metals, found objects, and vintage photographs. I am passionate about working with found materials, aka my "trash". I am especially attracted to those items that show use, wear and even some rust. I love stuff with character. I often find myself wondering about the person who made these materials, who used them, who held them. I like to think that a part or energy of that person is still contained in these things, and now it's transferred into the artwork. I'm giving that discarded piece of metal, or that old photograph, a new life, a different life. I am thrilled that I can use this stuff and that it becomes part of my creative process. These various materials are every bit as important to my art making as is a tray of oils are for a painter. For me, walking through a flea market is like walking through a well-stocked art materials store. The flea market is my palette.