Mindfulness & Creativity in Collage with Lauren Braun
January 24, 2023 @ 6:00 pm

-

February 28, 2023 @ 9:00 pm
Learn unique drawing and painting techniques to create your own collage materials.
6-Part Series Workshop
Date: Tuesdays, January 24-February 28, 2023
Time: 6pm-9pm
Description: In this workshop, Lauren shares how she draws and paints her own imagery for use in her collages. The focus of this workshop is on the experience of exploring new ways of creating your own collage materials through drawing and painting. Participants will be encouraged to develop and discover their individual intuitive inclination toward materials and color palette. You will take home a new set of skills in exploring materials and can use these as a springboard for your own work.
Tuition: $210 + $30 materials fee
Materials: All materials will be provided
Location: Contemporary Craft (5645 Butler St., Pittsburgh, PA 15201)
COVID-19: In accordance with current CDC guidance – we are recommending all visitors wear a mask. Please note that the recommendation applies to teaching artists, resident artists, students and guests attending events taking place at CC.
Cancellations and Refunds: Workshop cancellations are decided three business days before the start date. If workshops must be cancelled due to insufficient enrollment, the entire class fee will be refunded by check, to your credit card, or Contemporary Craft account for future workshops.
Refund Policy: Student refund requests must be made at least three business days before a class begins. There will be a $25 cancellation fee. No refunds will be given without three-business days notice. Processing of refunds takes approximately three weeks.
If you require accessibility accommodations, please let us know by calling 412.261.7003 and we are happy to assist you.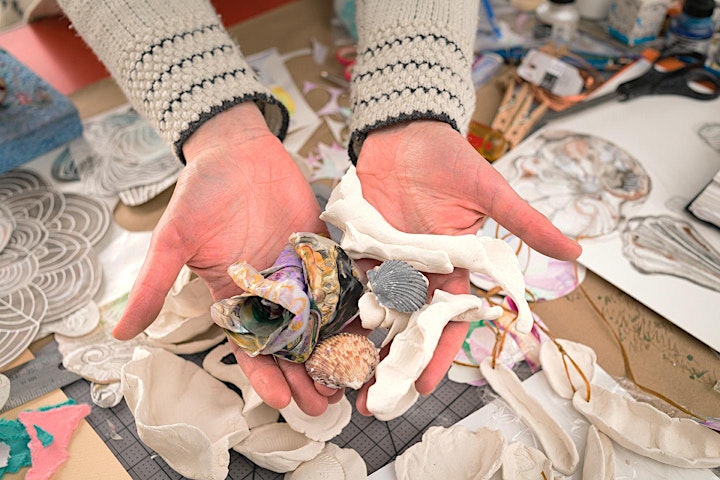 About the Artist
Lauren Braun is an artist based in Pittsburgh, PA. She works in collage, drawing and painting. In 2021, she became a certified mindfulness facilitator with the intention of helping artists learn how to incorporate mindfulness/meditation techniques into their art practices.
She was recently selected to participate in the Children's Museum of Pittsburgh's 'Tough Art @ Home' digital residency program, and for a mentorship collaboration between the Associated Artists of Pittsburgh and Creative Citizens Studios. She was a 2018 Emerging Artist at the Three Rivers Arts Festival and has participated in residencies at Nemacolin, the Pittsburgh Glass Center and the Vermont Studio Center. Her work was featured in Creative Nonfiction Magazine. She holds a Masters degree in Fine Art from the School of the Museum of Fine Arts at Tufts University and a BFA (Art Photography) with honors from Syracuse University.
Since moving to Pittsburgh in 2007, she has developed her studio practice while working for a variety of non-profit organizations including Dreams of Hope, JFilm and Jewish Residential Services. She also had a brief stint in the corporate world as the program coordinator for Ernst & Young's Entrepreneur of the Year Awards program.
Lauren's work is included in the permanent public collection of the PA Convention Center in Philadelphia, and the corporate collection of PNC Bank.
She creates work in her Squirrel Hill studio.