Metals 1 – Cold Connections with Katie Rearick
January 10 @ 6:00 pm

-

February 28 @ 9:00 pm
Learn the basics of metalsmithing with a focus on cold connections – joining metal with the use of a torch.
8-Part Series Workshop
Date: Tuesdays, January 10-February 28, 2023
Time: 6pm-9pm
Description: This workshop will cover all of the foundational skills of metalsmithing with a focus on cold connections. Riveting and other cold connections provide an affordable alternative to join metal together with out the use soldering. Learn the basics and beyond of riveting and cold connections while creating handmade jewelry. Other skills such as sawing, filing and finishing will also be covered.
This workshop series is perfect for those who want to learn how to make jewelry but aren't ready to invest in a soldering set-up for their home studio.
Tuition: $265 + $35 materials fee
Materials: All materials will be provided
Location: Contemporary Craft (5645 Butler St., Pittsburgh, PA 15201)
COVID-19: In accordance with current CDC guidance – we are recommending all visitors wear a mask. Please note that the recommendation applies to teaching artists, resident artists, students and guests attending events taking place at CC.
Cancellations and Refunds: Workshop cancellations are decided three business days before the start date. If workshops must be cancelled due to insufficient enrollment, the entire class fee will be refunded by check, to your credit card, or Contemporary Craft account for future workshops.
Refund Policy: Student refund requests must be made at least three business days before a class begins. There will be a $25 cancellation fee. No refunds will be given without three-business days notice. Processing of refunds takes approximately three weeks.
If you require accessibility accommodations, please let us know by calling 412.261.7003 and we are happy to assist you.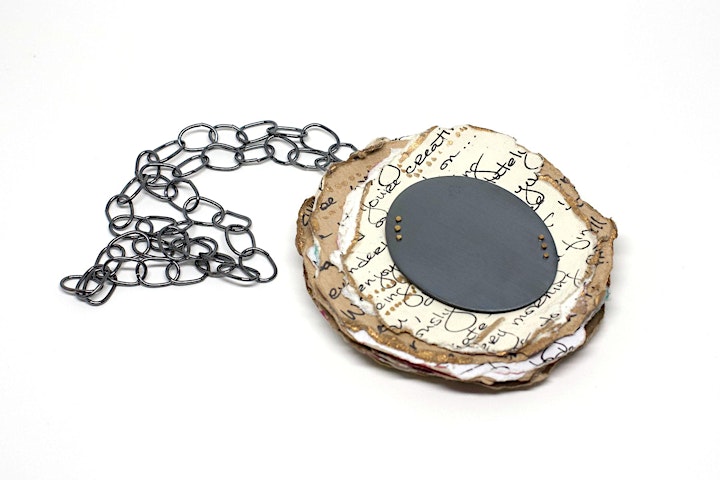 About the Artist
Katie Rearick received her BFA with an emphasis in Metal/Jewelry from Western Michigan University in 2008, and her MFA from SUNY New Paltz in 2012. Supplemental to her formal education, she has studied at Haystack Mountain School of Crafts and Penland School of Crafts.
Her work ranges from small-scale body adornment to large sculptural installations that utilize personal narrative as a starting point. Katie's work was included in the publications 500 Gemstone Jewels and 500 Enameled Objects. Notable exhibitions include: Staring : in HINDSIGHT at The International Design Museum in Munich, Germany, Fresh: Metalsmith Exhibition in Print at the National Ornamental Metal Museum and Allegheny Metals Club Exhibition at the Society for Contemporary Craft in Pittsburgh.
Previously, Katie has taught at SUNY New Paltz, Pittsburgh Center for the Arts and Waynesburg University. Having founded the Allegheny Metals Club in 2015, Katie is actively engaged in the Pittsburgh metals community and currently teaches workshops at the Society for Contemporary Craft. She also maintains a home studio in the Stanton Heights neighborhood of Pittsburgh.