Introduction to Wet Felting with Rae Gold
July 9, 2022 @ 10:00 am

-

5:00 pm
Here is your chance to start from the beginning with wet felting!
1-Day Workshop
Date: Saturday, July 8, 2022
Time: 10am-5pm
Description: Have you ever wanted to learn wet felting? Here is your chance to start from the beginning with laying out wool, learning about shrinkage, and making prefelts. With those basic skills under your belt, you will move onto making decorative elements that can be added to your felt creations.
This workshop will set the stage for you to move onto more intermediate and advanced wet felting techniques in the future. The possibilities with wet felting are truly endless!
Tuition: $95 + $30 materials fee
Materials: All materials will be provided
Location: Contemporary Craft (5645 Butler St., Pittsburgh, PA 15201)
COVID-19: In accordance with current CDC guidance – we are recommending all visitors wear a mask. Please note that the recommendation applies to teaching artists, resident artists, students and guests attending events taking place at CC.
Cancellations and Refunds: Workshop cancellations are decided three business days before the start date. If workshops must be cancelled due to insufficient enrollment, the entire class fee will be refunded through Eventbrite, or you may leave your workshop fee in your Contemporary Craft account for future workshops.
Refund Policy: Student refund requests must be made at least three business days before a class begins. There will be a $25 cancellation fee. No refunds will be given without three-business days notice. Processing of refunds takes approximately three weeks.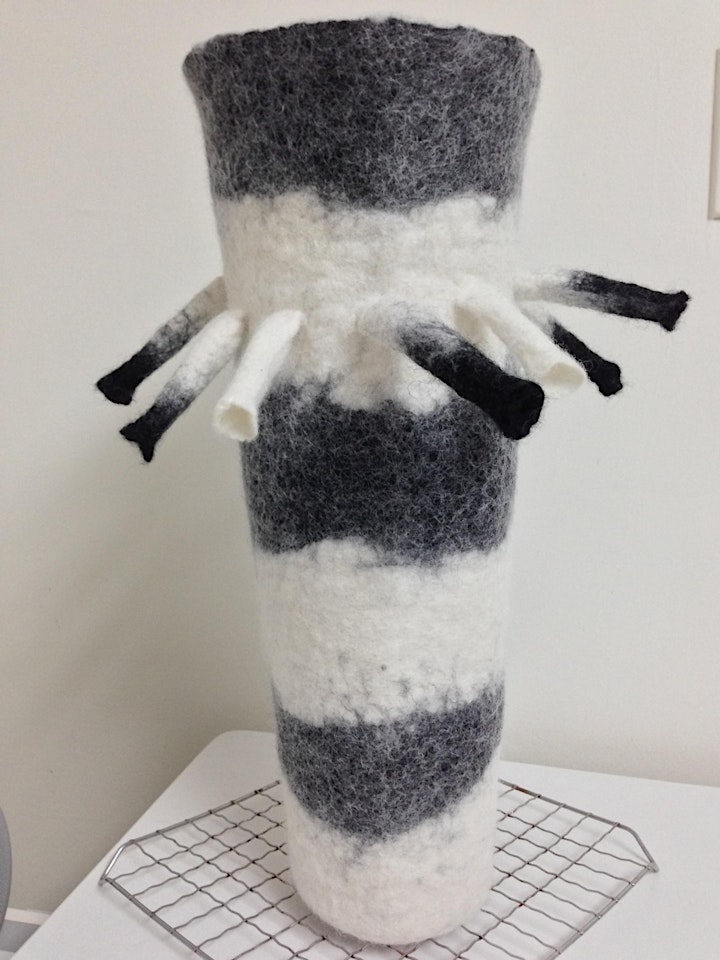 About the Artist: Rae Gold
When one asks how long I have been involved with fiber, I have to say it has been since the age of six or seven. I learned how to knit from my mother and how to crochet from a neighbor, knitting sweaters, crocheting edgings around hankies to doilies. I would start out with simple designs then look for more complex ones. I have always enjoyed the challenge.
Fiber is so tactile. Even in the early days of the art-to-wear movement as I designed my garments for myself I still felt the need to keep them light, soft, and supple whether a vest or jacket.
As an adult, I learned how to weave, spin yarn and create macrame sculptures, producing a variety of work for 15 years.
In the late 70's, I went from a 12 harness, double back beam loom weaving three dimensional forms to a 7'x7' frame loom to weave bodies from sisal, a very exciting time. Paper making three dimensional sculptures also became a passion.
In 1981 things drastically changed and I had to earn a living full time. After a year or two, I was able to produce art-to-wear as a full time profession being in business for 25 years participating in shows such as the ACC Baltimore show, the Philadelphia Craft Show, the Washington craft show, the Smithsonian Craft Show and selling to boutiques around the country.
In 2014 I decided to go back to my roots creating three dimensional sculptures. For a while I went back to paper making dimensional forms, but they were too fragile, so I turned my complete attention to wet felting sculptures, taking classes from teachers that I have admired, learning their approach and philosophy which have helped to inform my work. Wool is a most multipurpose medium. It can be manipulated into an infinite number of configurations. I am completely fascinated by its versatility.
My business name, Rae Gold fiberdesign, denotes the world of fiber is open in all its wonderful forms to be explored.