Intermediate Embroidery with Shannon Downey of Badass Cross Stitch
June 18, 2022 @ 2:00 pm

-

5:00 pm
Dive into some more advanced stitch techniques and have fun experimenting with them!
3-Hour Visiting Artist Workshop
Date: Saturday, June 18
Time: 2pm-5pm
Description: Got the basics down but want to expand your embroidery skills? In this workshop we will dive into some more advanced stitch techniques and have fun experimenting with them. I will provide a handful of samplers for you to explore a variety of application techniques. Bring your questions and ideas and we will co-create this adventure together.
Tuition: $60 + $15 materials fee
Materials: All materials will be provided.
Want more?: Shannon will be giving a FREE artist talk on Friday, June 17, from 6:30-7:30pm. She will also be teaching 2 additional workshops on embroidery and Craftivism. Read more and register below.
Artist Talk: Craftivism – Art as a Tool of Activism
Introduction to Embroidery – Saturday, June 18, 10am-1pm
Exploring Craftivism – Sunday, June 19, 10am-5pm – link coming soon!
Location: Contemporary Craft (5645 Butler St., Pittsburgh, PA 15201)
COVID-19: In accordance with current CDC guidance – we are recommending all visitors wear a mask. Please note that the recommendation applies to teaching artists, resident artists, students and guests attending events taking place at CC.
Visiting Artist Cancellations and Refunds: Workshop cancellations are decided one week before the start date. If workshops must be cancelled due to insufficient enrollment, the entire class fee will be refunded through Eventbrite, or you may leave your workshop fee in your Contemporary Craft account for future workshops.
Visiting Artist Refund Policy: Student refund requests must be made at 2 weeks before a class begins. There will be a $50 cancellation fee. No refunds will be given without 2 weeks notice.
If you require accessibility accommodations, please let us know by calling 412.261.7003 and we are happy to assist you.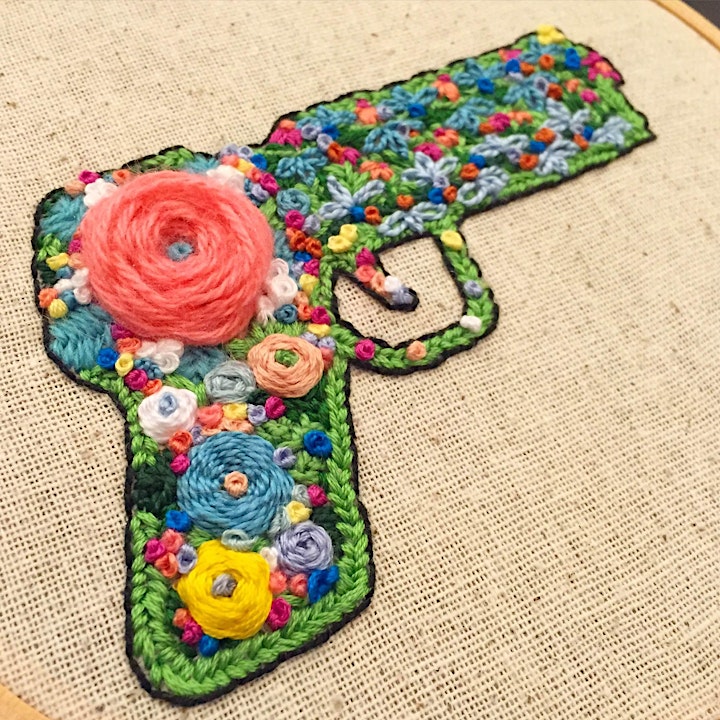 About the Artist
Shannon Downey, aka Badass Cross Stitch, is an artist, activist, craftivist, community builder, and general instigator. She blends her politics, activism, and art into projects that are designed to inspire others to take action, think, discuss, engage with democracy and their community, and find some digital/analog balance. She uses are as a vehicle for positive change through creative interventions whether that be through open-source street art campaigns or global craftivism projects.
She is the instigator behind #RitasQuilt, #MakeDontBreak, #YearOfStitch and @BadassHerstory. She is on a quest to teach 1 million people to embroider and invite society to rethink how we categorize, and value craft and art. Shannon sold everything she owned and moved into an RV in June 2020 to bring art, activism, and community to the country that she still believes in.
She teaches at Columbia College and DePaul University and is founder of Seriously Badass Women.
Instagram: @BadassCrossStitch
Twitter: @ShannonDowney