Enameling 2 with Katie Rearick
May 23 @ 6:00 pm

-

July 11 @ 9:00 pm
Learn Cloisonné Enameling in this introductory 4-session course.
4-Part Series Workshop
Date: Tuesdays, May 23-June 13, 2023
Time: 6pm-9pm
Description: Learn Cloisonné Enameling in this introductory 4-session course. Students will create small jewelry pieces, or samples, exploring cloisonne with transparent enamel using wet inlay techniques. Students will learn how to wash and store transparent enamel, as well as blend and layer colors to achieve value gradations. Students will also learn how to design basic settings for their enamel work. Each student will be provided 20 sample packs of enamel from Thompson.
Level: Beginner to Intermediate. Basic sawing, filing and finishing skills recommended but not required.
Tuition: $180 + $50 materials fee
Materials: Each student will be provided 20 sample packs of enamel and copper. Students are asked to bring the following:
-Pencils (you might like to also have colored pencils for designing but its not necessary if you don't think you will use them)
-Small, sharp embroidery type scissors ( Instructor will bring some if you want to borrow)
-Sketchbook ( or loose printer paper)
-At least 12 small containers for washing enamels (baby food jars, spice, small condiment cups, etc) with a lid.
-Watercolor tray with lid ( or something similar for wet packing enamel)
-2 – Sharp, pointed, clean tweezers for handling cloisonne wire.
-Eyedropper- cheap one from the drug store.
-Safety dust mask ( N95 or something similar)
-Small (size 0-2) paintbrush for inlaying enamel (we have a few in the classroom but it would be nice to have your own)
-A small plastic spoon or tiny scooping tool for transferring enamel from jars
Location: Contemporary Craft (5645 Butler St., Pittsburgh, PA 15201)
Cancellations and Refunds: Workshop cancellations are decided three business days before the start date. If workshops must be cancelled due to insufficient enrollment, the entire class fee will be refunded by check, to your credit card, or Contemporary Craft account for future workshops.
Refund Policy: Student refund requests must be made at least three business days before a class begins. There will be a $25 cancellation fee. No refunds will be given without three-business days notice. Processing of refunds takes approximately three weeks.
If you require accessibility accommodations, please let us know by calling 412.261.7003 and we are happy to assist you.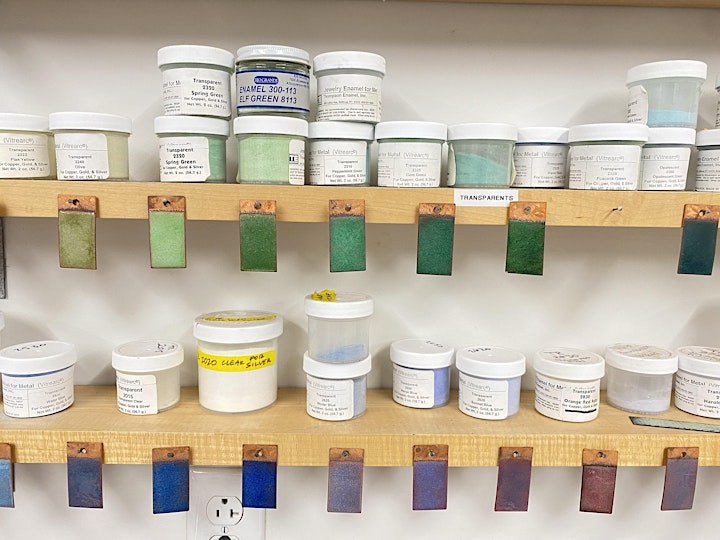 About the Artist
Katie Rearick received her BFA with an emphasis in Metal/Jewelry from Western Michigan University, and her MFA from SUNY New Paltz. Supplemental to her formal education, she has studied at Haystack Mountain School of Crafts and Penland School of Crafts.
Her work ranges from small-scale body adornment to large sculptural installations that utilize personal narrative as a starting point. Katie's work was included in the publications 500 Gemstone Jewels and 500 Enameled Objects. Notable exhibitions include: Staring : in HINDSIGHT at The International Design Museum in Munich, Germany, Associated Artists of Pittsburgh 107th Annual Exhibition at The Westmoreland Museum of American Art in Greensburg, Pennsylvania and Fresh: Metalsmith Exhibition in Print at the National Ornamental Metal Museum.
Having founded the Allegheny Metals Club in 2015, Katie is actively engaged in the Pittsburgh metals community and currently teaches workshops at the Society for Contemporary Craft. She also maintains a home studio in the Stanton Heights neighborhood of Pittsburgh.