Eco Twine – Making a Sustainable Plant Hanger with Barb Grossman
October 28 @ 1:00 pm

-

4:00 pm
Create a usable roping/twine while making sustainable products and reducing their carbon footprint, a little bit at a time.
3-Hour Workshop
Date: Saturday, October 28, 2023
Time: 1pm-4pm
Description: In this class you will be invited to make rope/twine using fabric scraps and a simple macrame' plant hanger. This workshop is open to students at all Levels who can manipulate fabric with their fingers and tie knots. Students will learn a technique to create a usable roping/twine while making sustainable products and reducing their carbon footprint, a little bit at a time.
Tuition: $55
Materials: All materials (except pots) will be provided. Students may bring a small pot of their choice for their plant hanger if they wish.
Location: Contemporary Craft (5645 Butler St., Pittsburgh, PA 15201)
Cancellations and Refunds: Workshop cancellations are decided three business days before the start date. If workshops must be cancelled due to insufficient enrollment, the entire class fee will be refunded through Eventbrite, or you may leave your workshop fee in your Contemporary Craft account for future workshops.
Refund Policy: Student refund requests must be made at least three business days before a class begins. There will be a $25 cancellation fee. No refunds will be given without three-business days notice. Processing of refunds takes approximately three weeks.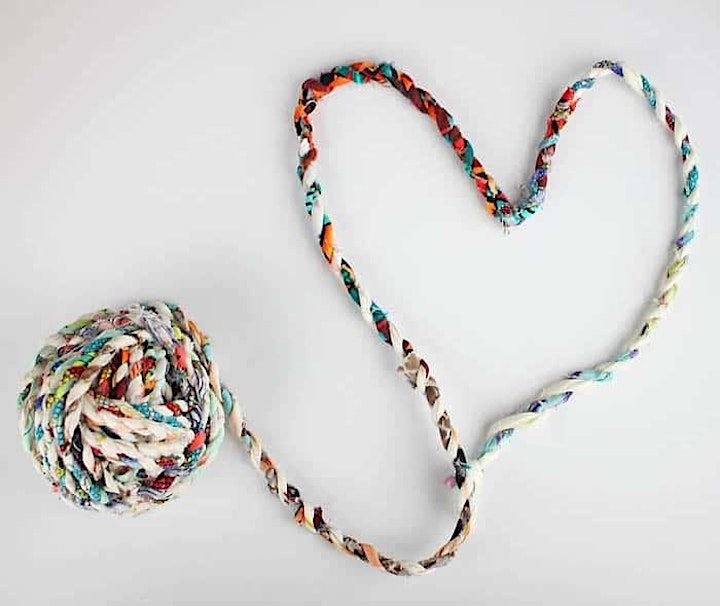 About the Artist
Barb started Scrapwerx, a zero-waste initiative, at the height of the pandemic after she lost her business as a creative arts event planner. She has worked with fibers, fabrics, textiles and various techniques for over 25 years. She is self taught and loves to explore new creative methods of repurposing and reusing, and inspiring others. She formerly taught yoga and shares her little self help exercise in many of her classes.
Barb frequently goes into communities to do interactive pop-up creative zero waste activities and offers materials for those who would like to do the same in their community, school or group. Barb places free fabric scraps in various locations in the region and offers many tips and suggestions for reusing even the smallest of scraps. Barb has been collecting fabric scraps and materials that were intended for a landfill and in 2 ½ years she has been able to divert over 2500 pounds of textile waste from going into a landfill. She has made and donated over 100 mats and pillows to local homeless and pet shelters.