Crafts & Drafts: Handmade Paper with Hops with Katy Dement
January 13 @ 6:00 pm

-

9:00 pm
Craft brewing meets the ancient craft of papermaking!
3-Hour Crafts & Drafts Workshop
Date: Friday, January 13, 2022
Time: 6pm-9pm
Description: Craft brewing meets the ancient craft of papermaking in this unique workshop! Using, fibers, and vines reclaimed from the brewing process, participants will create golden handmade papers and embellish them using vintage brewing ephemera, as well as hops flowers to make paper sheets and a "wet-on-wet" collage.
Tuition: $40
Materials: All materials are included!
Crafts & Drafts: Participants must be 21 years of age or older. Beer and lights snacks will be provided.
Location: Contemporary Craft (5645 Butler St., Pittsburgh, PA 15201)
COVID-19: In accordance with current CDC guidance – we are recommending all visitors wear a mask. Please note that the recommendation applies to teaching artists, resident artists, students and guests attending events taking place at CC.
Cancellations and Refunds: Workshop cancellations are decided three business days before the start date. If workshops must be cancelled due to insufficient enrollment, the entire class fee will be refunded by check, to your credit card, or Contemporary Craft account for future workshops.
Refund Policy: Student refund requests must be made at least three business days before a class begins. There will be a $25 cancellation fee. No refunds will be given without three-business days notice. Processing of refunds takes approximately three weeks.
If you require accessibility accommodations, please let us know by calling 412.261.7003 and we are happy to assist you.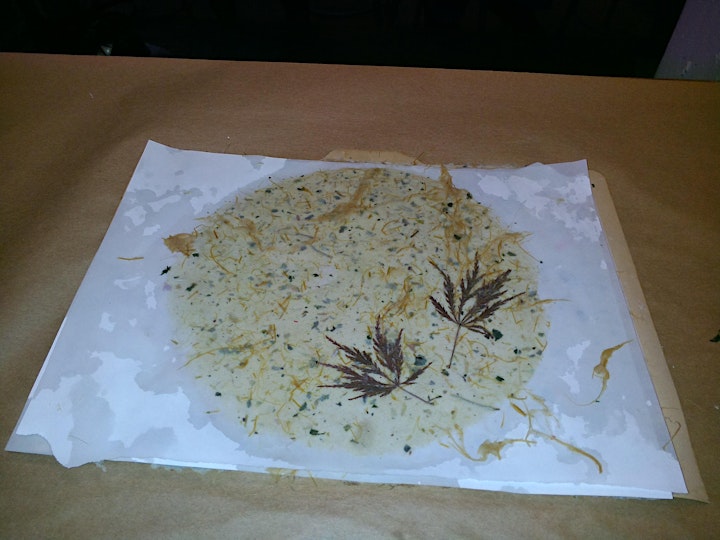 About the Artist
For my entire life I have been a working artist, organic gardener, and beekeeper. I create handmade paper as a means to an end. Paper art works take the form of: art lighting, shadow box, stationary, books and sculptures all crafted from sustainably collected plants, recycled and invasive fibers.
Each piece is a vignette that holds a visual narrative. Through layers of vintage ephemera, photos and bits of cloth, tales are told. When etched images are included the dialogue begins. Toys, natural and found objects punctuate the story. No material is arbitrary; I am influenced by overlooked materials found in my community, my own back yard. Rusty old tools are mashed together with deconstructed plants; this is where I find humor, combining these unlikely fellows. Often my works invite the viewer to playfully interact with the art work through light and kinetic elements that bring the imagery to life.