Contemporary Cloisonne Series with Jennie DiBeneditto
September 6 @ 6:00 pm

-

October 25 @ 9:00 pm
Explore traditional cloisonne enameling techniques to create contemporary pieces!
8-Part Series Workshop
Date: Tuesdays, September 6-October 25, 2022
Time: 6pm-9pm
Description: Cloisonne is an alluring traditional artform using wires to create intricate designs and cells of color. In this class we'll explore traditional techniques to create contemporary pieces that can later be incorporated into jewelry or enjoyed as their own artform.
In the first weeks, we'll explore creating an enamel "canvas", blending and adhering cloisonne wires, cleaning the enamels, and wet packing the colors to create beautiful gradients. In the second half of the class, we'll use the foundational skills to create our final cloisonne pieces!
Skill Level: Intermediate – Experience using a jeweler's saw and basic enameling skills are helpful, but not required.
Tuition: $265 + $50 materials fee
Materials: Students will receive a materials kit including 20 enamel colors, copper, cloisonne wire, fine silver foil, saw blades, and enameling brushes. Students are asked to bring a set of small, leak-proof containers to store their washed enamels similar to these.
Location: Contemporary Craft (5645 Butler St., Pittsburgh, PA 15201)
COVID-19: In accordance with current CDC guidance – we are recommending all visitors wear a mask. Please note that the recommendation applies to teaching artists, resident artists, students and guests attending events taking place at CC.
Cancellations and Refunds: Workshop cancellations are decided three business days before the start date. If workshops must be cancelled due to insufficient enrollment, the entire class fee will be refunded by check, to your credit card, or Contemporary Craft account for future workshops.
Refund Policy: Student refund requests must be made at least three business days before a class begins. There will be a $25 cancellation fee. No refunds will be given without three-business days notice. Processing of refunds takes approximately three weeks.
If you require accessibility accommodations, please let us know by calling 412.261.7003 and we are happy to assist you.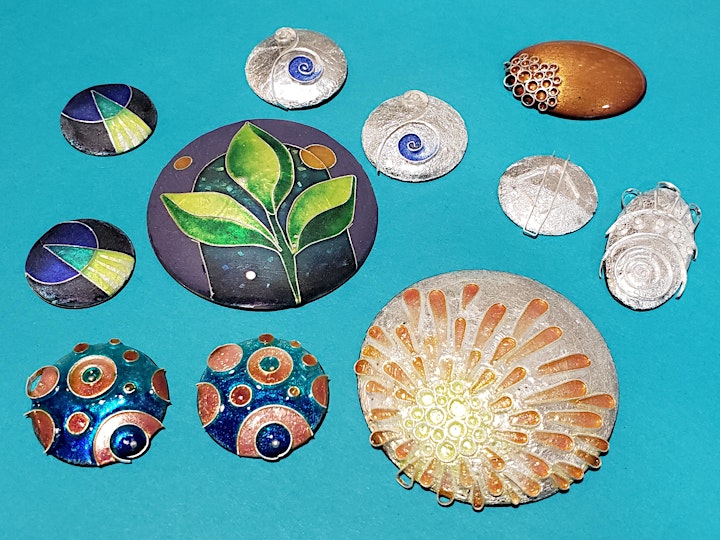 About the Artist
Jennie DiBeneditto is a multi-media artist and graphic designer. In her enameling work, Jennie composes color, pattern, texture, and light to create contemporary works of wearable art.
She earned her BFA in Ceramics and Graphic Design from he University of Louisville (KY). While in the greater Louisville/Southern Indiana area Jennie was a founding member of a community arts organization, co-owner of a gallery and educational studio, and she created multiple murals and sculptures that remain as a part of Jeffersonville, Indiana's public art collection. Jennie currently lives near Pittsburgh, Pennsylvania where she creates work in her home studio and enjoys teaching the art of enameling to others.