Beads, Boxes, & More: Hollow Forms in Silver Metal Clay with Donna Penoyer
June 6 @ 6:00 pm

-

August 1 @ 9:00 pm
Learn a variety of methods to construct hollow, jewelry-sized pieces, in almost any shape imaginable!
8-Part Series Workshop
Date: Tuesdays, June 6-August 1, 2023 (no class July 4)
Time: 6pm-9pm
Description: Learn a variety of methods to construct hollow, jewelry-sized pieces, in almost any shape imaginable!
More information will be coming soon! If you would like to be notified when registration is open for this event, please click on "Register" and sign up to be notified. Please note that signing up to be notified does NOT register you for this worksop. You will have to complete the registration form along with payment once registration opens to be registered for the workshop.
Tuition: $265 + materials fee
Materials:
Location: Contemporary Craft (5645 Butler St., Pittsburgh, PA 15201)
COVID-19: In accordance with current CDC guidance – we are recommending all visitors wear a mask. Please note that the recommendation applies to teaching artists, resident artists, students and guests attending events taking place at CC.
Cancellations and Refunds: Workshop cancellations are decided three business days before the start date. If workshops must be cancelled due to insufficient enrollment, the entire class fee will be refunded by check, to your credit card, or Contemporary Craft account for future workshops.
Refund Policy: Student refund requests must be made at least three business days before a class begins. There will be a $25 cancellation fee. No refunds will be given without three-business days notice. Processing of refunds takes approximately three weeks.
If you require accessibility accommodations, please let us know by calling 412.261.7003 and we are happy to assist you.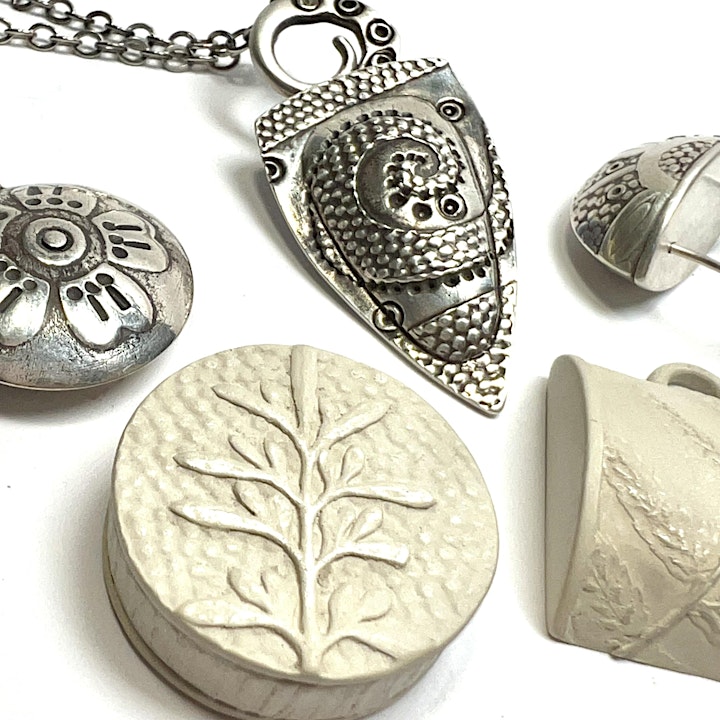 About the Artist
Donna Penoyer, an award-winning artist known affectionately as "The Whistle Lady," has been working in precious metal clay (PMC) since 2005. Her whistle amulets and other jewelry pieces have appeared in multiple books, magazines, online sources, and exhibits, and she has taught hundreds of silver clay workshops throughout the U.S., England, and Belgium. Donna is an enthusiastic ambassador for the relatively new medium of metal clay and is proud to have achieved the level of Principal Instructor for the Camp PMC Certification Program. She has also enjoyed being featured several times on "Craftcast with Alison Lee," creating a number of craft tutorials available through the Craftcast website. Besides her one-of-a-kind jewelry, Donna occasionally makes special pieces for contests and exhibits. Juried exhibitions have included the Pôle Bijou gallery in Baccarat, France; a world-touring show by the International Society of Glass Beadmakers, for which Donna collaborated with glass artist Darlene Durrwachter Rushing to make an astonishing silver-and-glass piece; and a solo show at WAX Jewelry Design Studio in Pittsburgh. Although she developed a spirited, over-the-top, 21-year career as a professional stiltwalker, these days Donna is pretty down-to-earth. She is an upbeat and welcoming teacher who believes there is a gleeful maker in everyone.